ATTACK OF THE LEDERHOSENZOMBIES
Th, 22.09. | 20:00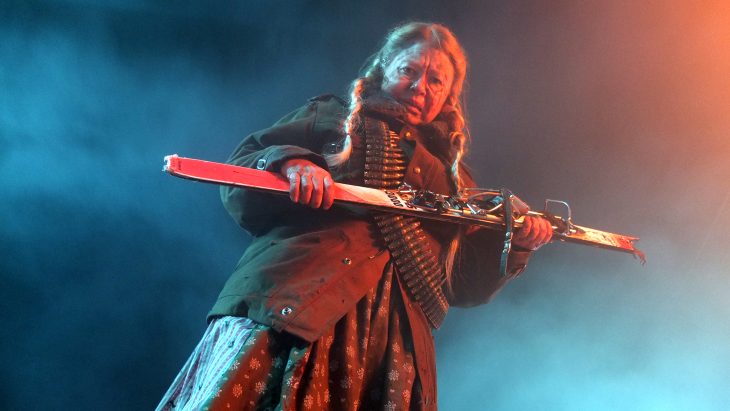 Afterwards: OPENING NIGHT: ERÖFFNUNGSSAUSE! WITH CHRISTIAN FUCHS & ROAD TRIPPER
Loud roars, fist fights and the relentless leakage of bodily fluids, an average night at an Aprés Ski-Bar or: what you pour in, will come out again somewhere. It's actually a bit of a "negative-miracle", that no one has ever tried to portray the monstrous behavioral patterns of Alpine tourists in the winter wonderland of Austria in combination with the popular outpourings of the horror genre. Judging by that, Dominik Hartl's pimped zombie-comedy "Attack of the Lederhosenzombies" needs to be viewed as a long overdue statement concerning the so called "ski-circus", turning lush meadows into brown wastelands and family fathers into alcohol soaked monsters. The story appears to have been taken from real-life: A money-grubbing hotelier develops a panacea for everlasting artificial snow, turning everyone, that comes into contact with it, into a zombie. Three professional snowboarders stranded in an alpine cabin suddenly find themselves trapped by this madness. Dominik Hartl has created an homage to luminaries of the genres from Stuart Gordon to Peter Jackson, combining intense local color with an international thrust (most of the dialogue is in English). He lets Margarete Tiesel, in the role of a liquor swilling Alpine innkeeper, mow down zombies in leather shorts with a machine gun. A small step for zombie movies, but a big step for the Austrian genre cinema!
In attendance of the filmcrew.
When and where?
Th, 22.09. | 20:00 – Gartenbaukino (1., Parkring 12)
There are no online tickets left for this screening. You will be able to buy remaining tickets before the screening at the Gartenbaukino box office.